The world is becoming digital 🌐 at an increasingly fast pace. Everything and everyone seems to be online📲 , doing all the daily stuff online. This includes talking, entertainment, buying and selling, studying, and all the other things.
Another part of our daily life is buying and selling products🛍️, which is also increasingly becoming digitalized and it is now a practice of a majority of people to buy online.
But to buy anything, it needs to appeal to a person. While physical shopping, we can see an item and buy it if it seems appealing. In the case of online buying off products, the advertising also needs to be online, and it needs to be precise, yet attractive enough to grab customer attention
Digital marketing for brand development
👉 Any type of marketing that is done online to attract customers to buy products/services is known as digital marketing.
The act of advertising a product or any item or business online in a manner that can attract the attention of a large number of people is also known as DIGITAL MARKETING.

It is done to appeal to users👥 on any electronic devices such as phones, tablets, laptops, or desktops.
This type of marketing campaign is done organically as well as with paid campaigns. Paid campaigns include online ads, videos, pop-up ads, social media advertisements, etc.
✔️ It is highly in trend as well as in demand as people are becoming inclined towards online purchasing with each passing day.
It is a way of promoting brands and their products to be able to set up direct communication between users and the brand owner.
The advertising can be done using social media, mail, web advertising, text messages, etc. If digital communication is used for any online marketing and advertising, it is known as digital marketing.
Role of digital marketing for brand development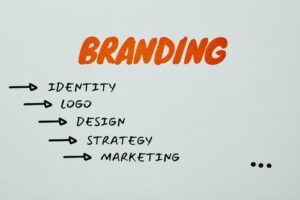 🔗 REACHING LARGER AUDIENCE
Digital marketing helps reach a larger audience as compared to traditional marketing plans. A major number of people around the globe, especially the younger audience, are really attracted to the online world.
So, advertising online helps gain the attention of a larger and wider range of audiences. And thus helps in the development of brands worldwide.
🔗 SMALL BUSINESSES
Many small businesses have been benefited from the use of social media advertising, especially during the tough times of covid-19, as people had no choice but to be online for any need.
Though not all businesses can be favored by digital marketing, it can definitely gain more attention from people, which itself can be beneficial for business owners.
🔗 TARGETED AUDIENCE
Digital marketing allows the user to post an ad online targeing a particular audience of certain genders, ages, and preferences as per the nature of the business.
Posting the ad online is not costly and is hassle-free. On any social media platform, you can easily select the type of audience you want to target and make the ad must more visible to the particular type of audience.
For example, for a female fashion website, the main target is women of a certain range of age.
Similarly, it becomes easy to target people of a particular:
Age
Location
Goal
Education
Profession
Gender
🔗 PERSONALIZATION
Using digital marketing, it becomes easier to personalize messages and advertisements according to their choices and what they normally buy.
This is normally done using emails, WhatsApp, and text messages. It reaches a wider variety of people, and being personalized makes it more appealing to the receiver.
It allows the user to unsubscribe if they want but also increases the chances of a customer interacting with the website and product more than other means of marketing.
Through personalization, a person's name is used to address or greet them, making it recognizable on a personal level.
This is done on the basis of the person's purchase history, making better recommendations.
🔗 EASY TO SCALE AND ADAPT
It is really easy to scale and adapt a business with the help of digital marketing with minimal investment. It helps in choosing and sticking to a budget.
It helps get better results and also does not involve putting up the ad multiple times, thus saving money. The ad continues and reaches a wider variety of audiences.
The ad is in your own power, you control it, and can save a lot of money. The results are instant and prove that digital marketing makes a business cost-effective.
CONCLUSION: Digital marketing can help in branding and growing a business by targeting a wider audience and spreading awareness. With the correct strategies and tactics, digital marketing helps grow a business while staying on a budget and allowing to invest more in the business instead of only marketing. A digital marketer really helps in increasing the reach of a business and helping gain success on a tight budget.