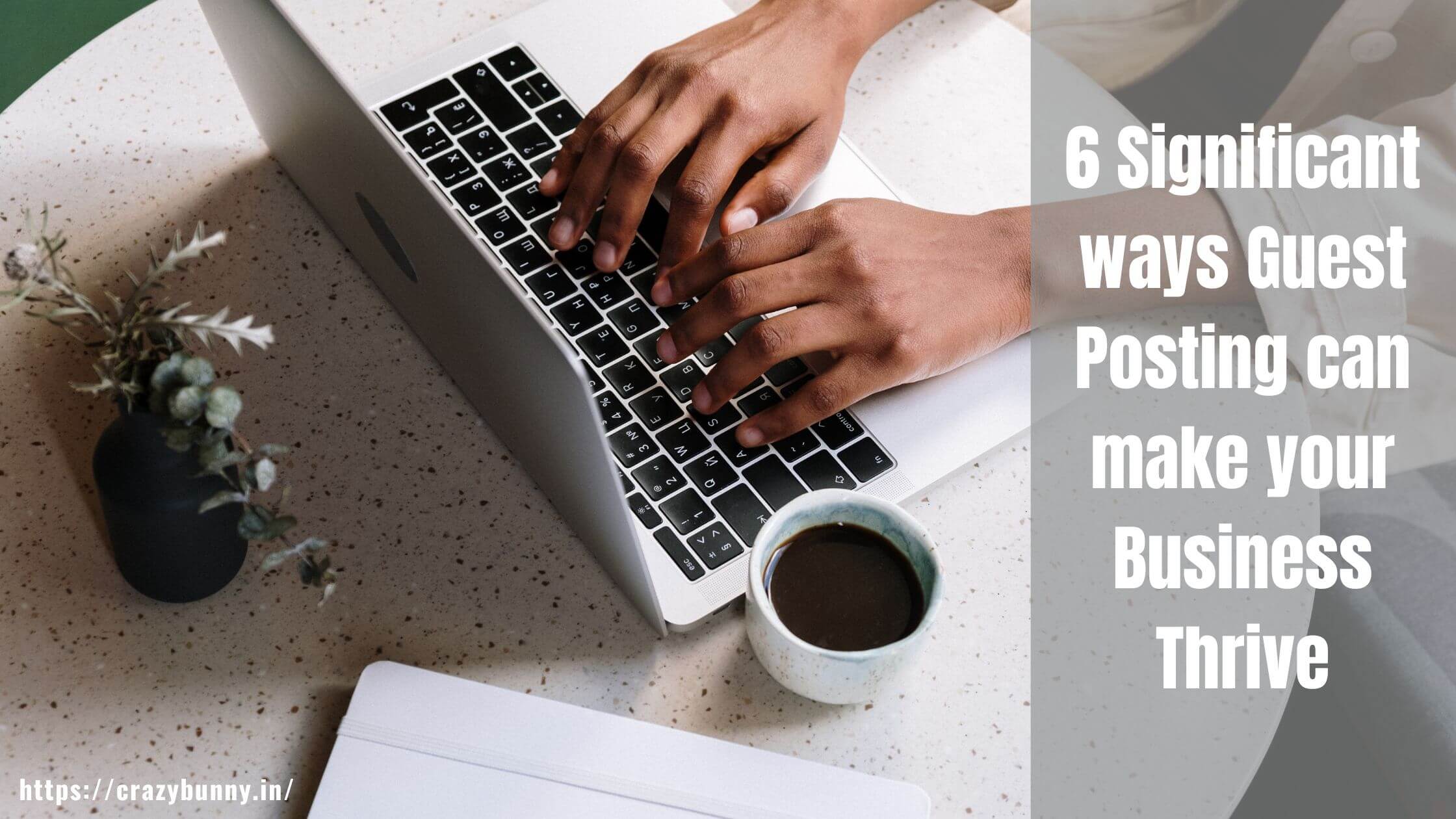 6 Significant Ways Guest Posting can make your Business Thrive
✔️ Guest posting can help 📈 grow your business in a number of ways. Be it getting more quality traffic, boosting SEO and Domain Authority, or growing your 📧 email list. And there's hardly any better way to expose your brand to an already existing audience than guest blogging. Making it one of the best methods to build authority and increase awareness of your brand.
And not to mention that guest posting helps you make strong industry allies. 
So with guest posting holding so much importance for business growth, let's first understand 👇
👉 
What Guest Posting is ?
As the name suggests, guest posting or guest blogging is the act of posting content(blog) on another's website as a guest. You 📝write the post and publish it on similar blogs within your industry. The guest post includes your byline. And most often the editor of that website highlights the post as being written by a "contributor" or "guest author".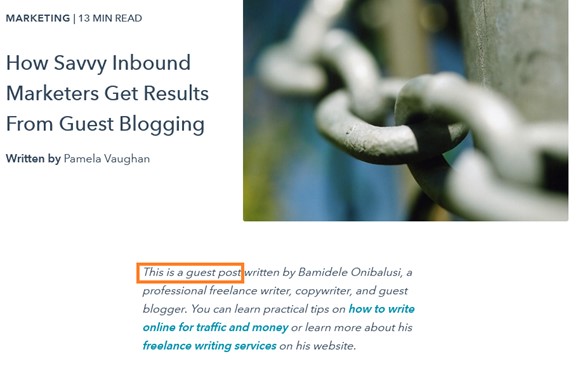 Image: See how the Hubspot editor mentioned the blog as the guest post in the first para.
In return, they may give a link or two from that post to your website or social media accounts. But you shouldn't obsess over getting these links. Because guest posting has greater benefits to offer. 
But before moving into the benefits, first understand 👇
👉
How effective Guest Posting is?
Guest posting is effective if your objectives are beyond generating backlinks. Back in 2014, the former head of Web Spam at Google, Matt Cutts pointed out guest blogging as dead. This created a lot of buzz around that time. So he later clarified that guest blogging is good for many reasons such as ✔️ branding, ✔️ exposure, ✔️ community, ✔️ increased reach, etc. But not for SEO anymore. In short, he meant that the spammy blackhat SEO guest posting is Dead. 
Now in 2022, 60 percent of blogging sites produce 1-5 guest posts per month. And even for 6 percent of blogging sites, most content is produced for guest posting.  So it's quite evident that guest posting helps to 📈 grow their business. And hence they're continuously investing their resources in it. 
Now let's see 👇
👉 
How guest posting can benefit your business?
More Quality traffic to your website
Guest posts include one or two links 🔗 that lead readers to your website. And if done right, guest blogging can boost your monthly website traffic to a good extent. A good example is SaaSLauncer. They used guest posting tactics to increase the monthly website traffic of SaaS websites by between 14-19%. 
But more traffic through guest posting isn't always good🚫. It can prove to be detrimental to your search ranking. Because low-quality traffic brings visitors who aren't your target audience. So they immediately leave your content after finding it irrelevant. Resulting in an increased bounce rate. 
A SEMrush study found a direct correlation between bounce rate and ranking on the first page.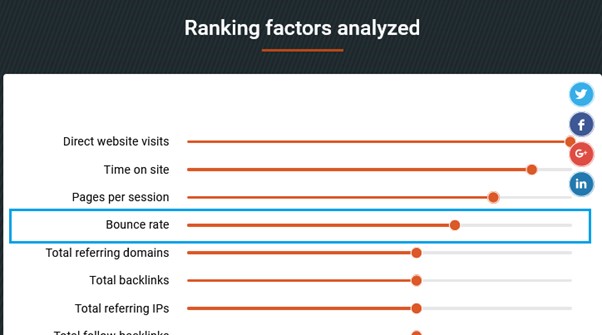 ➡️ So you need to ensure 💯 that you're getting quality traffic from guest posting. 
For that find out 👇
Who your customers are

❓

: are they small business owners looking for more customers? Or teenagers trying to get into college? The purpose is to build a buyer persona who can derive the most value from your content, services, and products. 
Once you find out who they are, it's time to find out which sites your customers visit. And what they're reading and whom they follow. 
To figure it out you can make use of a simple Google search.
To illustrate, If your target customers are business owners then a "business ideas" search would reveal the sites where your customers could visit. So you can try to ✔️guest post there and get quality traffic to your site. 
2. A boost in SEO and Organic Ranking of Keywords
Backlinks 🔗 or link building is a major factor in boosting a site's SEO. According to Google, you can improve 📈 the rank of your site by growing the number of high-quality sites that link to your pages. And guest posting 💻 on high-quality sites gives you the opportunity to get backlinks 🔗 which can boost your SEO. Boost in SEO means more of your keywords will organically rank on Google. 
But when you're starting out it's hard to publish your guest post in authoritative blogs. Unless you know someone who can refer you there. So you can start by guest blogging on smaller blogs. And once you have some references, you can work your way up to larger blogs. Just like Leo Wildrich had done with buffers. The more experience and exposure he got from guest blogging on smaller blogs, the easier it was for his guest posts to be accepted on big blogging sites. 
The long-term result was profound🤩. It gave a huge boost to the SEO visibility growth of butterapp.com.
A more recent example of boosting SEO and organic keyword ranking through guest posting is Adam Enfroy. His first 8 guest posts resulted in 247 new backlinks, 32 new referring domains, and 268 new organic keywords that ranked within the top 100 of SERPs.
Moreover, it delivered a domain rating improvement of +12 together with a 372% increase in organic traffic. And within a year his 80 guest posts shot up⬆️ his organic traffic to 300,000 monthly.
3. Growth of your Email List
80 percent of professionals say the main marketing channel for customer acquisition and retention is 📧 email marketing. And for the majority of the B2B marketers(79%) the most effective lead generation channel is 📧 email. So it's quite evident that an ever-growing 📧 email list is crucial for your business growth📈. And the good news is that 📝 guest posting can help you grow your 📧 email list. 
Here is how- 
Most blog owners offer a byline at the end of the post. And you can choose the destination of the link. So instead of directing the 🔗 link to your home page for a few extra visitors, ✔️ direct it to a landing page with a signup form. 
Now people clicking on the link in your byline implies that they enjoyed reading your guest post. So they are very likely to sign up to your email list before reaching your content. 
Moreover, it's pretty easy to create a landing page with a sign-up form using a free version of tools such as Hubspot. Link it to the author's bio in your guest post. 
For 💡inspiration, you can take a look at how Adam Connell of Blogging wizard used this technique to build his email list. 

4. Better Brand Awareness and Exposure: Enhanced Brand Authority
When you 💻 guest post on an established platform your name is exposed to the established readership of that blog. And when the guest blog ranks, some part of the traffic finds its way to your site✔️ through the backlink. As a result, the audience that lands on your site become aware of your brand. 
Moreover, when you post 📝 guest blogs on various guest posting sites, it spreads your name on multiple sites. And when readers see your or your company names on multiple sites they become more interested in knowing more about you. This will give a huge credibility boost to your brand😍. 
On top of that, more than 62% of readers regard blogs with multiple authors as more credible sources of information. So blogging sites too are most often open to guest blogging. Provided, you can give valuable in-depth content in line with their requirements. 
Further, when you guest post on an authoritative blog having existing readers then ✔️ you get a part of the daily visitors 👥 as quality traffic to your website. This is particularly important for new businesses. As new websites can take a year or so before showing any substantial growth without guest posting efforts. 
In short, for building brand awareness and authority through guest posting-
Select a high-quality blog for guest posting: A blog that is well-respected in your niche and gets plenty of traffic. Use the free searches of this

tool

to find out the traffic and domain authority of a blog. 

Provide high-quality content for guest blogging: Make it

informative and interactive

. Use relevant text links and images. 

Allow your

personality to shine

through the post while keeping with the blogger's guidelines. 

Embed

contextual links

that can drive traffic back to your own site. 
5. Improved Domain authority
A site having Higher Domain Authority ranks ⬆️ higher in search engine result pages(SERPs). Consequently, it brings more organic traffic to a website. So if you have a higher domain authority compared to your competitor websites, ✔️ chances are your web pages will get more traffic.   
And the best way to improve your Domain Authority is by building a strong 🔗 backlink profile. And guest posting is the way for it. But while building a backlink profile through guest blogging you have to make sure that
You're guest blogging for a site having higher Domain Authority than yours. 

The guest posting sites are related to you in what they do. 

You're more focused on earning one link from various sites than earning several links from a single site. 
Moreover, you have to understand that getting ✔️ one good-quality external link 🔗 from a high domain authority site is way better than having two low-quality links🔗. 
6. Helps to build Strong Relationships with peers
Getting a 🔗 backlink from a blog isn't the only reason you should invest your time and efforts in the guest blogging. See the bigger picture of building strong relationships🤝 with blog owners. When you 💻guest blog you get to know someone in your community on a personal level. This helps you to be in close contact with a powerful industry ally. And being part of the community opens the 🚪door for all sorts of future partnerships and plans. 
Moreover, once you 💻 guest post on a blog, it's very likely that this is the beginning of a series of future guest postings and 🔗backlink generation. And the newly built relationship also opens the door for guest posting on other blogging sites as it works as a reference. 
As a result, when your portfolio spreads across different high-authority blogs, it will give a credibility boost in the eyes of your target audience. 
Lastly, each of the blog owners that agrees to post your guest blog will most likely work as your editor. They'll give advice about writing and publishing. So you can take advantage of this feedback to hone your guest blogging skills👍. 
So guest posting helps you grow your business in many ways. But it takes time to yield results. Hence, you shouldn't expect any significant change in your traffic, ranking, or domain authority within a few days of starting. You have to keep doing it diligently to see the desired outcome in the long run. 
Write for us
We're looking for authors who can deliver quality articles and blog posts that can help our readers to know more about digital marketing and business growth strategies. Thousands of your peers will read your work, and you will level up in the process.
Contribute to our blog