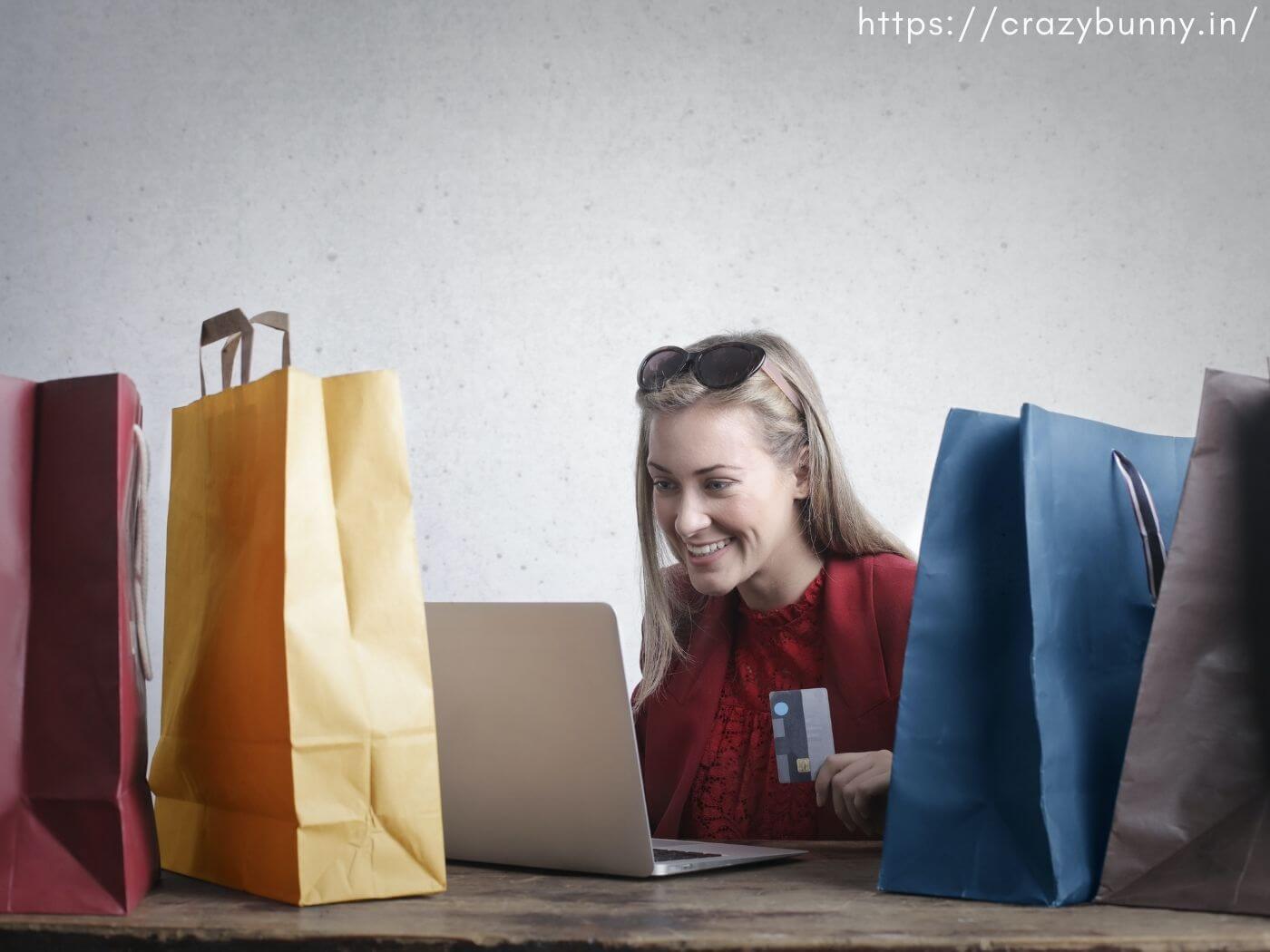 5 simple ways to personalize the eCommerce customer journey for improving your bottom line
You help your buyers find the best-suited products. You give them timely offers. You interact with them in a way that leads to more response and engagement from their side. Overall, you provide a delightful shopping experience that leads to enhanced loyalty among shoppers, resulting in more sales and more returning customers to your website or App. That makes a direct positive impact on your eCommerce bottom line. And all these can be done by personalizing the customer journey of your eCommerce store.
So with personalization having such huge importance for any eCommerce brand, we're going to show you 5 simple ways to personalize the customer journey of your eCommerce site. Enabling you to improve your bottom line.
But before jumping into the ways let's take a quick look into
The importance of Data for eCommerce customer journey personalization
Personalization of eCommerce customer journey starts with DATA. This includes user's behavioral, transactional, contextual, and demographic data collected through cookies, loyalty programs, quizzes, and emails.
You have to analyze these freshly collected data to segment the aggregate pool of visitors you get from various customer journey touchpoints. Then construct specific marketing campaigns to provide an effective personalized experience for each visitor segment.
Lastly, you have to add certain targeting rules and specific conditions into these marketing campaign setups which help you deliver personalized content. For instance, sending a personalized offer 15 days prior to any customer's birthday.
Start with your homepage: Personalise it with suggestions, offers, and recently viewed items.
1. Personalize for existing users 🛍️
When your existing customer logs into their account present a fully personalized homepage with offerings and products that will be of most interest to them. Craft time-sensitive promotions or suggestions based on their purchase history and personal info given during signing up. This would encourage customers to pass through your eCommerce sales funnel.  
To personalize different elements of your eCommerce site including the home page you can offer quizzes. Highlight the best products for your customers based on the answers.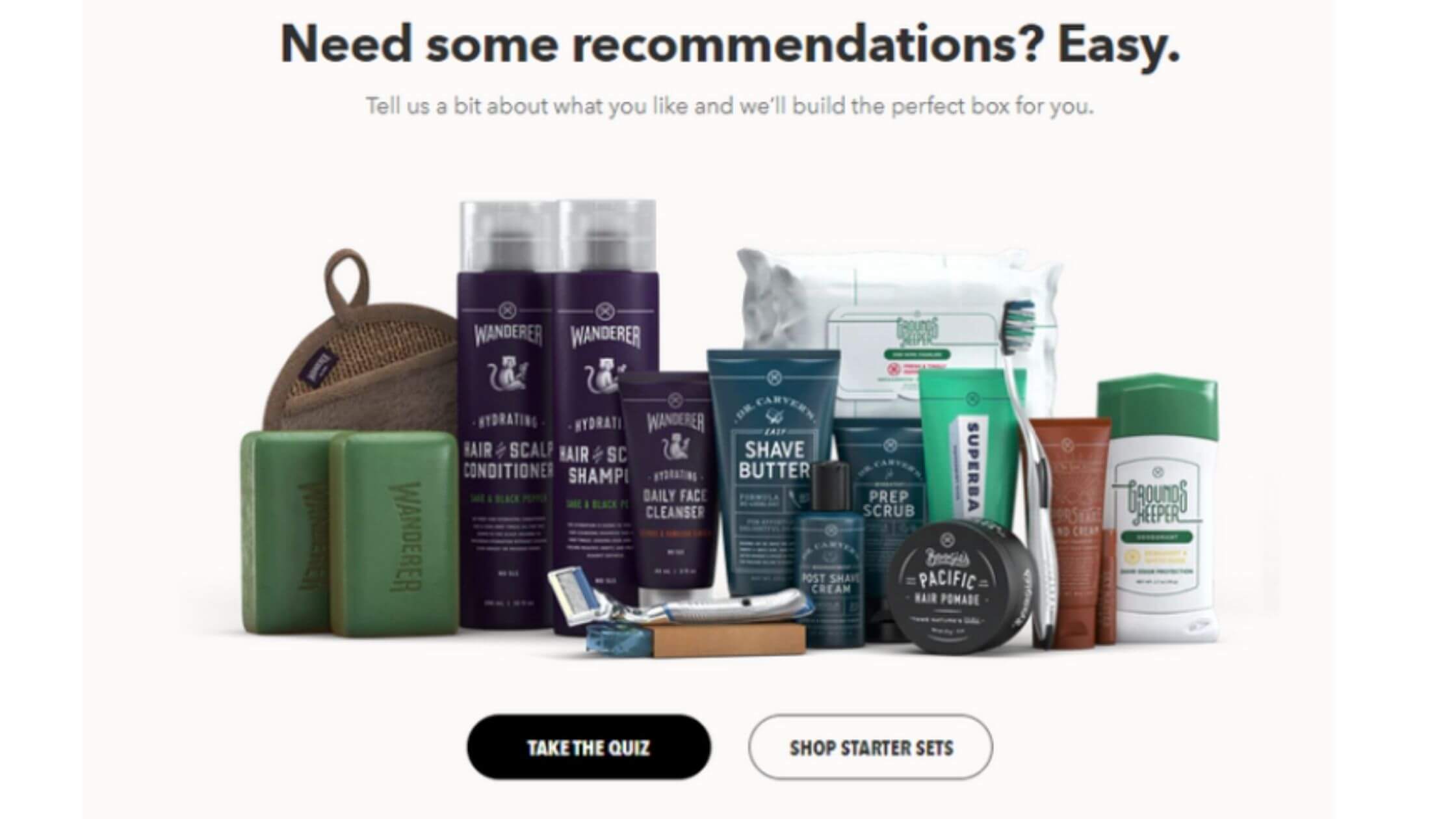 Image source: smile.io
In the above image, you can see how Dollar Shave Club offers product recommendation promises if visitors decide to 'tell a bit about what you like' by taking the quiz.
2. Personalize for new users 👤
Users browse an eCommerce site multiple times before adding items to carts. They click on different items and visit different product pages according to their point of interest.
Displaying recently clicked items on each subsequent page they visit would make them more inclined to view those items and consequently add them to their cart. Locate these recently viewed product short codes anywhere on the homepage or on all the pages on your eCommerce site. Here you're making their journey easy by adding these subtle reminders.
Image: source shopify.com
Moreover, offering discounts on recently viewed items can increase the chance of a customer purchasing your product rather than jumping to another site in search of a better price.
Offering a time-sensitive free delivery option may increase the likelihood of throwing additional items in the cart before checkout.
All these small but important personalization elements on the eCommerce customer journey amount to a delightful buyer experience that incentivize buyers to return back to the store during their next purchase. Improving your bottom line in the long run.
💥Offer a delightful shopping experience with live chat, video, screen sharing options.💥
Let's say a high intent buyer wants to know whether a specific computer component has a certain capability. Now, your ability to give an immediate answer would make it either a complete purchase or a missed sale. Or for instance, a customer isn't able to locate a certain product or resource on your site and the support agent needs to show(or tell) exactly where to go to find it. 
In both scenarios, providing a Live Chat and Screen Sharing facility directly on your eCommerce store would enable customers to ask questions that are preventing them from making the purchase decision and get an immediate response.  Such individualized interactions would increase the chance of final purchase by the visitor, reducing the occurrence of cart abandonment as well. 
Numerous SaaS products help you integrate both Live Chat and Screen Sharing on your eCommerce site. 
Image source: accuwebhosting.com
After delivering a positive customer service experience 89% of consumers will make another purchase. Showing the power of personalized customer journey in eCommerce that eventually leads to the increased bottom line. 
3. Personalize the customer🛒 journey experience based on geographic location, season, and native language
It's very likely that your eCommerce store serves customers across geographic and climatic regions. This may include different countries in both hemispheres or include different regions in a vast country like the USA or India. To ensure a comfortable browsing(or shopping) experience for visitors from across countries, locations who speak different languages, and have different tastes.
🌐

Location-based personalization
Recommend products on the home page that are relevant to people from particular climatic or geographic regions. For instance, showing warm climatic clothes to people from northern Europe would be irrelevant. Or showing the price in dollars instead of that country's currency.   
Image source: geotargetingwp.com
🌐 Language and measurement standard-based personalization
Visitors from different countries speak, read, and interact with the web in diverse languages. Also, their measurement standards are different from your store's evaluation standard that's based on your home country. For example, the shoe size measurement system in Europe or South Asia is different from that of the US.
So when your U.S based eCommerce store is catering to European or South Asian people, the product measurement should be in European standards. If visitors have to seek a conversion chart or double-check the product to ensure they're purchasing the right size then they will be uncomfortable shopping on your site and leave it to never return. The same goes with the language you display the products.
Many integration software will help you deliver both location and language-based personalization for your eCommerce site that will lead to a better customer journey, more returning customers, and hence an improved bottom line.
4. Personalize your different email 📧 campaigns
You have to make your customers feel like the email you have sent is crafted just for them, it should talk about their product preferences, it should call them by name starting from the subject line.
No matter if it is a welcome email, seasonal offer email, cart abandonment email or thank you email after a successful purchase, personalization will bring results in each case in the form of a more open rate, enhanced click-through rate, and better conversion rate leading to the improved bottom line(or revenue).
The key to creating personalized email campaigns is to segment your email subscriber's list into various smaller, highly targeted lists based on their browsing and purchasing history, location, preferences, and the state of relationship with your brand. Then send more relevant content to each list according to that list's independent interests.
See how Clinique used gender, areas of interest, and purchasing history to send personalized email ads.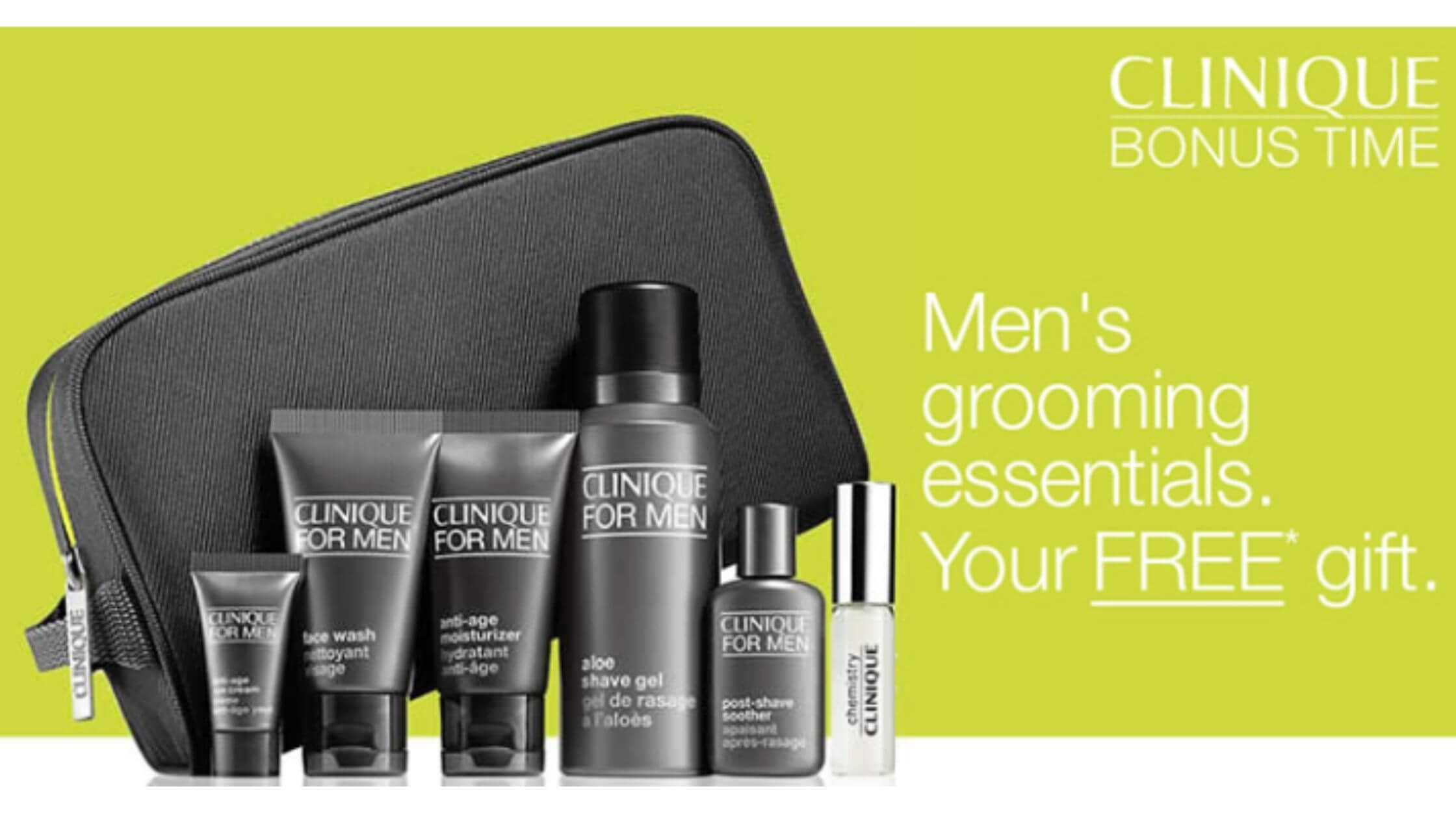 Image source: a personalized email ad on men's grooming essentials
The above email is targeting men who previously showed interest in grooming kits. In the following email, you can see Clinique is talking straight to women who are interested and conscious about quality nail enamel.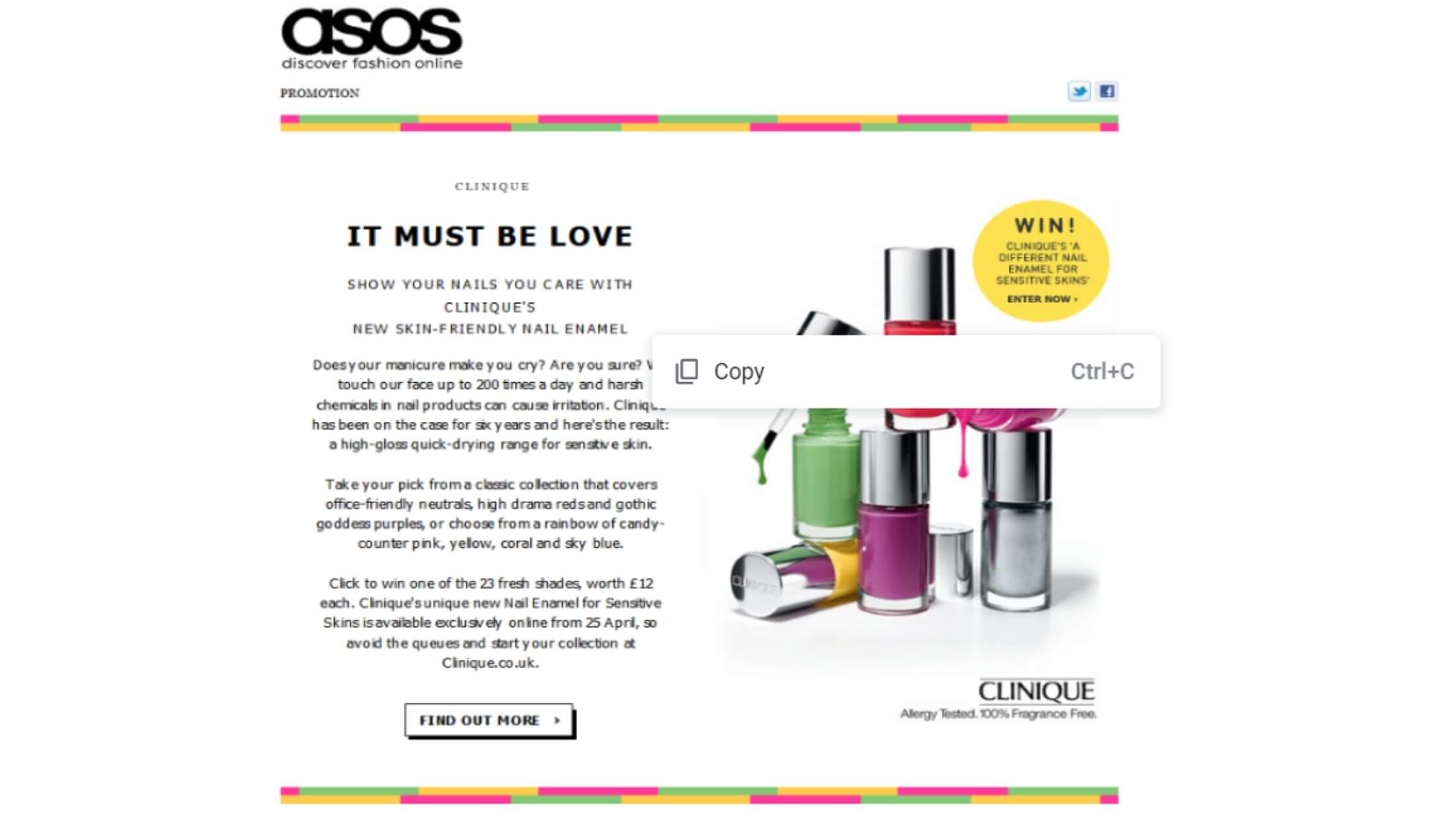 Image source: Quality nail enamel promotion through personalized messaging. 
5. Personalize your product📦 page
Once a visitor clicks on an item, it's time to show related products that they might be interested in. Product recommendations are used to influence people so that they add more items to their cart before checking out. Little similar to the home page personalization experience we have talked about but this tactic leads to a more personalized experience for a visitor as it works as virtual shopping assistance that guides visitors to best suited products.
Image source: smile.io
See how retail giant Amazon uses the product page to give both product detail as well as to show related products you scroll down that a customer might be interested in.
Image source: amazon.com
A person who clicked on an Acer laptop may also be interested in laptops having the same specification as other brands with lesser cost and better customer reviews. He may also require anti-virus software along with the laptop.
Key takeaways from eCommerce customer journey personalization tips
You need to work on different facets at the same time to personalize the eCommerce customer journey. Personalization means you make the customer journey as frictionless and delightful as possible for your buyers. And eCommerce personalization doesn't end after implementing these best personalization practices. You have to keep analyzing the metrics periodically and see what's working and what's not and make improvements accordingly so that slowly but surely your bottom line will improve.