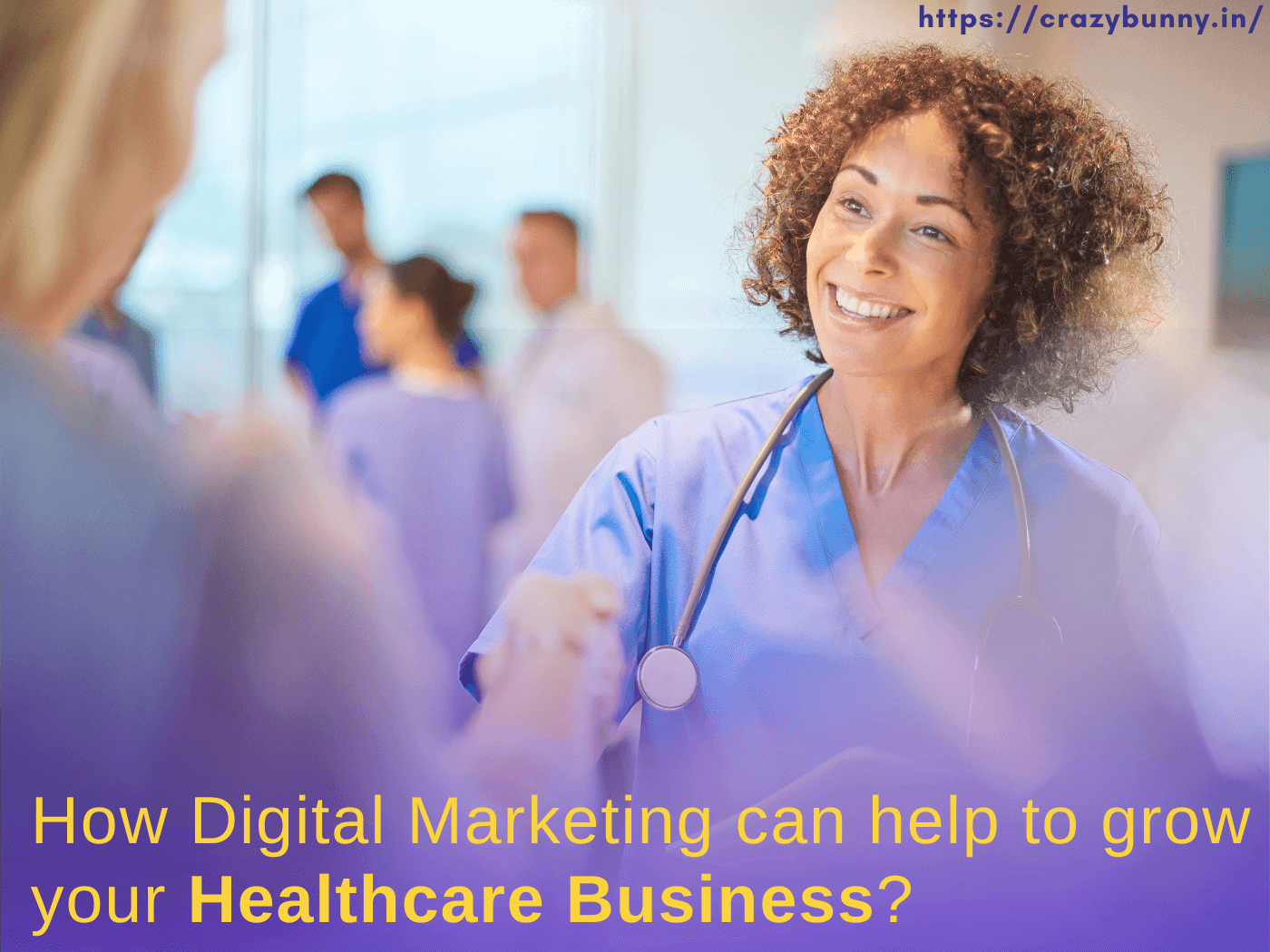 How Digital Marketing can help to grow your healthcare business?
✔️ 8 out of 10 adult internet users search 🤳🏻online to seek health information. And close to 56 per cent of these health-related searches are for learning about health problems, their treatments or procedures, and to find information about doctors or other health professionals.
Particularly for Gen-Z and millennials, health-related conversions and pages on various social media platforms are becoming a go-to place to seek health information. Sometimes the first place they go to look for health information is social media.
And the result of these behaviors among prospective patients is that they are choosing a specific doctor👨🏻‍⚕️, hospital🏥, medical facility or other healthcare provider based on how strong their online presence is.
Moreover, in this post-pandemic digital landscape people are becoming more comfortable with receiving healthcare services in the comfort of their homes (through telemedicine). Now patients want to know more, see more, and get more information about your healthcare services along with an easy way of reaching out through the internet🌐.
So if you're a Doctor, Hospital, Clinic or other healthcare professionals, the growth📈 of your healthcare business will depend on how well you tap into these opportunities. For that, you need to leverage digital marketing efforts to build a solid internet presence.
👇 Here in this blog, we'll have a detailed discussion on the ways digital marketing can help you grow your healthcare business.
SEO improves the visibility🧐 of your website or page in search engine ranking. When someone searches for any health-related information such as "cardiologist in Kolkata", proper SEO will rank your website for keywords like this-
People who find you through search results are likely to make a call to make an appointment. Studies show that 88% of people researching online for healthcare services book appointments for themselves, or for other family members by the phone number they found online.
So using SEO you connect prospective patients with your healthcare services regardless of the patient's location (through physical visits or telemedicine).
But what about your healthcare services reaching more local people? the answer is👇
👉 Local SEO
Using local SEO your medical service pages are optimized more specifically for local searches. So that when a patient in your area searches "doctor near me" or "healthcare center" your Google Business profile will appear.
Image: Google Business profiles upon searching "doctor near me"
Prospective patients can directly go to your already built responsive mobile-friendly website that ✅ loads faster, ✅ has informative content, ✅ fluid navigation and ✅ an eye-catchy design. The combined effect of which leads to a top-grade user experience for your prospective patients. Resulting in an organic increase of traffic that eventually converts to visiting patients( or through telemedicine).
Listing your information(Name, Website Address, contacts) on multiple websites and directories(such as Yelp, Justdial, Practo to name a few) as part of local SEO practices also increases your healthcare business's visibility for local searches.
But unlike other digital marketing channels for growing your healthcare business, SEO needs time and a lot of effort to bore fruit. But once done correctly, it will provide a long term return in the form of more patients, a better reputation and brand awareness.
One of the crucial components of growing your healthcare business with Digital marketing is paid ads or pay-per-click(PPC) campaigns.
Healthcare providers from across the globe🌏 are leveraging PPC campaigns to attract new patients and build awareness about their brand. In India alone, the spending on healthcare ads has risen at an average rate of 26% between 2018 and 2021( page 4) and in the US it has increased by 18%.
Paid ads are quick to generate leads, easily scalable, and specific. It lets you target prospective patients having particular demographics who are searching for selected medical terms.
For example, if you're a dentist located in Mumbai, you can run PPC ads for the keyword "dentists in Mumbai" among others and your healthcare business may appear like this
Moreover, PPC campaigns let you target those patients who have visited your site but didn't convert. When they browse on other websites or scroll on social media networks, you can retarget them by showing display and text ads. It not only increases conversion but also helps your healthcare services to stay at the top of their mind.
With performance analysis of ongoing PPC ad campaigns you always have the scope to improve its operation to get more high intent leads.
80% of social media users search for health-related information on various social media platforms. A healthcare business that provides this information by building a strong social media presence will be at the top of their mind when they decide to seek medical help.
So you too need to build a solid social media presence and educate your prospective patients about your expertise, the services you provide, the ailments you cure, and increasingly they'll become aware of your brand.
Social media marketing(SMM) has an ROI if a straightforward marketing strategy is implemented. It can lead to tremendous growth in your healthcare business that may seem impossible to reach with other digital marketing channels.
For example, Doctor Mike is just another family medicine doctor but with over 21 million followers across social media platforms, he has made his healthcare business huge.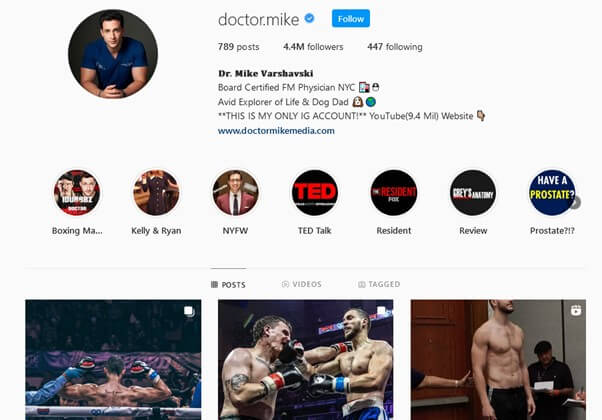 You may not have to build a presence that big but ✔️ sharing snippets of your medical practice, ✔️ a bit about interesting yet simple diagnostic stories in visual form will help prospective clients get a glimpse of who you're, and ✔️ how your institution runs. And they'll be more comfortable visiting you. Increasing your client base to take your healthcare business to new heights.
👉 Unleash the power of reviews & testimonials with Online Reputation Management
A staggering 90% of patients evaluate healthcare providers using online reviews📝. These prospective patients trust these online reviews so far as they trust personal recommendations from close ones. And it just takes 1-6 online reviews to form an opinion about your healthcare services by your prospective patients.
So using digital marketing practices you can make arrangements to receive online reviews📝 and testimonials from patients who are happy🥰 with your treatment services or consultations.
Drop them on your healthcare website and social media platforms. Manage your Google business profile reviews and these will attract more potential patients as well as strengthen the trust your patients already have. Moreover, it'll give a boost to the word of mouth marketing too.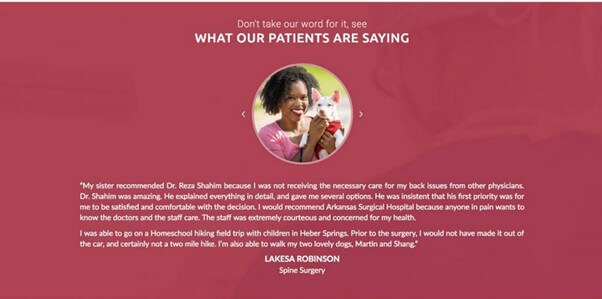 Image Source: dbswebsite.com
👆 Above is a beautiful example of collecting testimony for a healthcare website.
Though most patients disregard unduly negative reviews, handling them with understanding and care is a must for your healthcare business's growth.
Online reputation management as a part of digital marketing efforts works wonderfully to make the best out of positive reviews as well as handles negative reviews so it creates the least impact on your brand.
The 2 billion active monthly users of YouTube do more than just mindlessly gaze at mind-numbing videos. They come here to get entertained as well as to learn about health problems and their probable solutions.
Many physicians and other practitioners are leveraging this demand to grow their healthcare business by expanding their engagement with patients.
When you search for "how to treat excessive belching" on YouTube, you may get the below results-
See how individual doctors, institutions and other healthcare professionals are using medical advice in educational videos to reach their target audience. They're talking about interesting topics that engage customers and at the same time spreading awareness about their brand, services and more.
And the result? Patients are actively reaching out for their services. Check out the comment section to have a better picture of the extent YouTube marketing helps to grow healthcare businesses.
Through 📹 Video advertising you can reach out to prospective customers using short video ads.
Highlight your unique approach to patient care or share a quick snippet of your healthcare clinic, or explain a complex new procedure with a longer video. As long as you keep these videos engaging enough they won't skip your ad and even if they do, the small video ad window is enough to raise awareness about your brand and ignite their curiosity to know more about you.
In the 👆 above video advertisement from Ontario Medical Association, you can see their emphasis on taking care of people at every stage of their life.
You can use other forms of video advertisements too. Talk with your digital marketing expert to understand which kind will better suit your healthcare business.
👉 Define your Healthcare Business with Content Marketing
How do you establish authority?
How can your brand remain at the top of your prospective patients' minds when they need any healthcare services?
The answer is content marketing where various content types such as ✔️ articles, ✔️ social media ✔️ posts, ✔️ videos, and ✔️ other media are produced and shared.
But another content talking from the same point of view won't help. You have to find ways to make your content about conditions or treatment stand out, providing value beyond what your prospective patient might find on the Web.
Your content should educate potential patients and encourage engagement. Use interactive tools and quizzes to get answers from patients which can greatly increase the conversion rate. Place video content on your website, it encourages your patients to spend more time on your site(good for SEO) and improves conversion.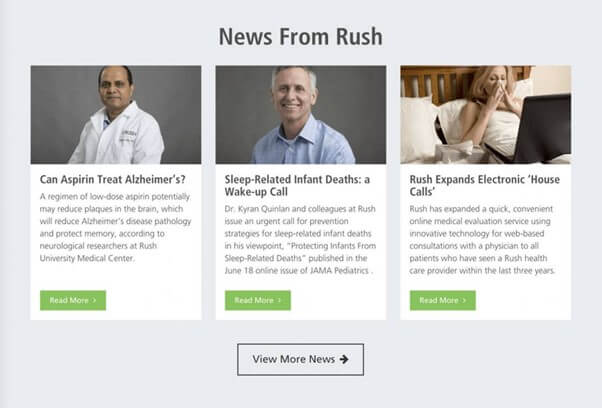 Image Source: dbswebsite.com
👆 Above is an example of how news is used as a great content type to engage prospective patients.
👉 Build long term relationships and loyalty with your patients through Email Marketing
How can you directly connect with your prospective and existing patience?
How can you build a trusted and personalized relationship with them?
The answer is email marketing. And the cost? You can expect an ROI of $42 on each dollar spent.
With emails, you're actually invited to use your patient's personal space where they'll be available 24/4, just remember how often you check your email on your phone.
When you'll send newsletters, surveys, feedback, and other content through email, make sure to add personalized elements so that they open your email and take the actions you desire them to take.
🔑 Key takeaways
The various marketing channels of digital marketing can take the healthcare business to a height that was impossible to reach with print media marketing. So it's imperative that you invest your time and energy in digital marketing.
But amid a myriad of tasks that need your continuous involvement daily, it may seem impractical to dedicate your time to designing and building blueprints for each of these campaigns. That's why you can assign the tasks of growing your healthcare business through digital marketing to a digital marketing agency like Crazy Bunny.
We at Crazy Bunny craft personalized marketing campaigns with innovative strategies that are completely aligned with your goals.
If are into Healthcare Business and want a Digital Marketing Expert to help you grow your business, CONTACT US.
Write for us
We're looking for authors who can deliver quality articles and blog posts that can help our readers to know more about digital marketing and business growth strategies. Thousands of your peers will read your work, and you will level up in the process.
Contribute to our blog