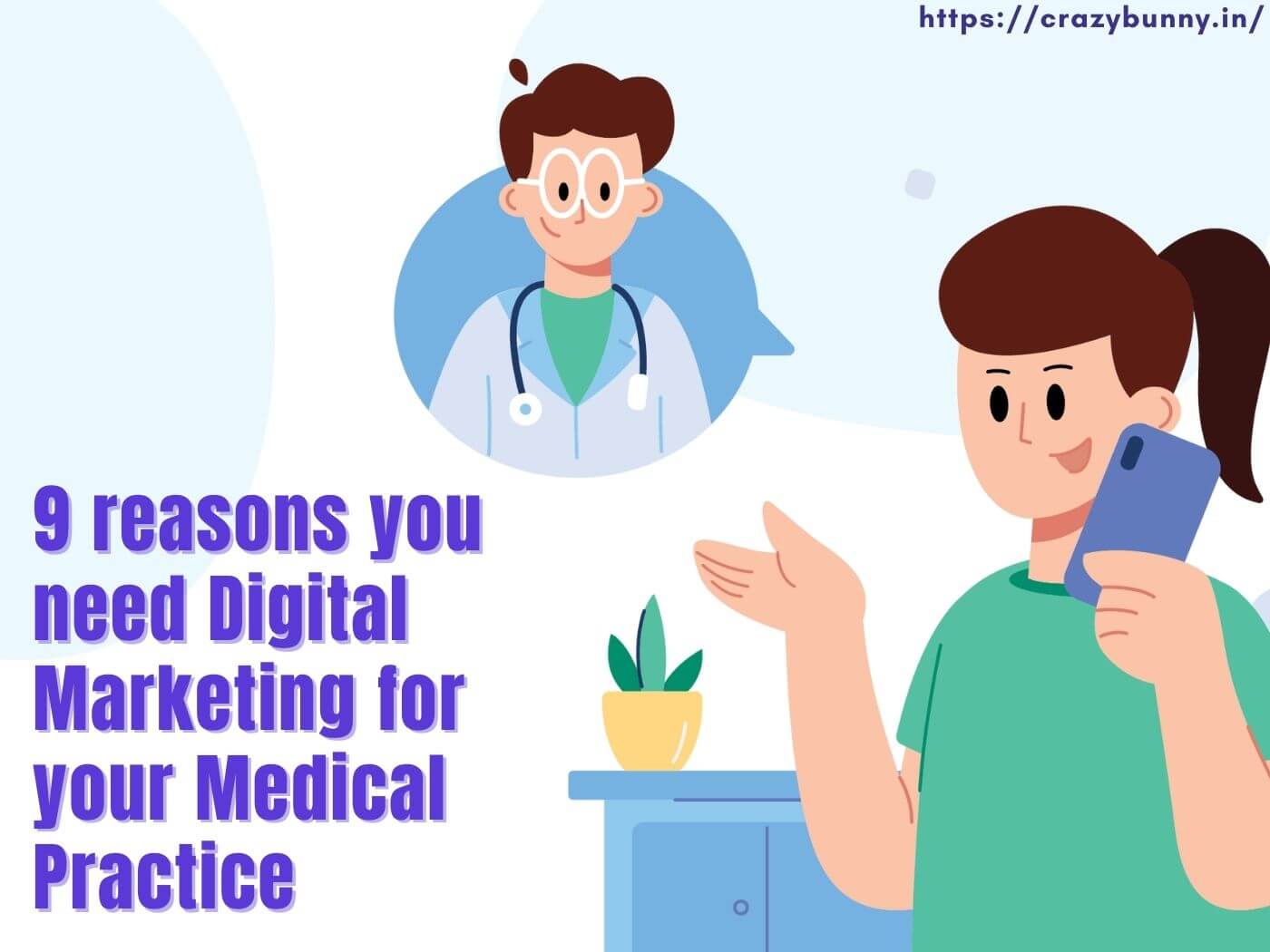 9 Reasons You Need Digital Marketing For Your Medical Practice
With the digitalization of basically every necessity of our daily lives, we have become habitual of having every facility at the base of our fingers, just a click away.
So, what makes the 🩺medical field any different?
The innumerable years spent to become a doctor become much more satisfying once you realize that you are able to use those skills on those who need them. To be able to provide service to the patients and help them to feel healthier and happier feels like a reward.
And if situations arise where you want to be able to reach out to more patients, what to do?
Yes, tradition marketing methods such as ✔️ print media, ✔️ TV, ✔️ radio channels, etc. still get a great response. But to improve the results tenfold, combining traditional methods with digital marketing definitely proves to be a great idea. It is bound to optimize the results.
All types of industries have now been brought on to the digital platform, with the majority population having direct access to it.
In such a time and age, being able to market your medical services on these platforms can increase the chances of patient connections and loyal patients.
👇 These are the top nine reasons for you to choose digital marketing for your medical practice:
1. Larger number of people👥 are online
With the help of internet, most of the information is just a click away. Maximum people opt to search medical practitioners online, on the basis of their specializations as well as popularity and the patient's symptoms.
So, it becomes very important for practitioners and hospitals to build an online image such that they are easily found on the search engine, and if possible, hold the top position in their field of specialty.
With the extra aid provided by Social Media Marketing, one can successfully attract more patients, which in turn automatically increases online popularity with the help of the popular feedbacks.
2. Cost-Effective💲
Not everyone can afford the high budgets required for the growth of their business or services through traditional marketing.
According to a survey by US vein practice, healthcare professionals spend over $314 and $348 per patient on traditional marketing. This is a lot of money, compared to what to the spend on a digital marketing campaign (over 50% slash in ad spend).
People with smaller budgets can face struggle handling the budget for the marketing of their services., which can make competition biased.
However, digital marketing provides a level field for people with all kinds of practices and budgets. With the wide variety of people having access to internet, there are equal opportunities available for everyone, irrespective of budget, size, or location.
While traditional methods can be very costly with less reach and impact, digital marketing is highly cost-effective and has a huge impact on the growth of the business or service. It is important to choose the correct tools like search engine optimization and marketing media to bring the practice online with the right impact.
Image Source: https://www.foryoucreations.in/best-digital-marketing-solution-for-your-business-2/
3. Patient Engagement and Retention Marketing
Demands of the patients keep changing, and it is important to be able to keep developing the services to meet with the demands.
This increases the chances of better patient engagements as well as increases the chance of retaining the patients.
Methods such as print media and television are normally one-sided, so being able to learn about the changes in demands becomes a difficult task to fulfill.
Digital marketing increases interactions with patients and helps in building a better and long-term relationship. ✅Email Marketing, ✅Digital Forms for Feedback, and ✅Social Media Platforms are great way to interact directly with your patients and/or prospects patients.
4. Online Reputation Management
With a large number of people being online, and choosing only the best for the services they require, it is important to promote your business, brands and even medical practices online.
This is necessary for ensuring the success of the practice for a longer period of time.
For any kind of customers, they tend to remember the care over the services provided. It is very important to be as careful as possible because the slightest mistake can lead to a negative image. It can take many years to build up a reputation, and only a few moments to ruin it completely.
Digital marketing helps a lot in these cases. It helps build a new and great image quickly, especially for the new and smaller practices. It requires brand-building, pre care, post care as well as patient engagements.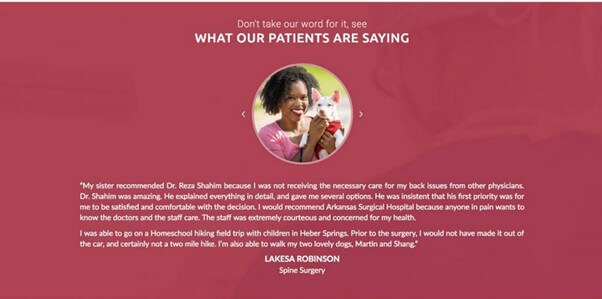 5. Competitors
With people choosing digital marketing for all brands and services, it has become highly important to take digital marketing to promote your practices to stay on top and be able to keep up with the expectations of the customers.
With digital marketing, you can take up a plan which fits your budget as well as helps you achieve goals, bringing growth in your medical practice.
6. Online Presence
To be able to attract a larger amount of people to your online website, it is important to keep updating it. Through quality content relevant to your patients, you can gain their attention and the profile presence on the internet becomes significantly higher.
It helps in making your services available and easily accessible to relevant audience and also positions you on a higher market position.
This can be done by posting blogs, articles, YouTube video, taking part in discussions, and solving patient problems, etc.
7. Know your target audience
According to the specializations, doctors should target audience with a specific condition to be able to provide better and efficient services.
Know your target audience on the basis of their ✔️ age, ✔️ gender, ✔️ medical conditions and ✔️ location.
It makes you aware about the type of ideal audience you should reach out to. Thus reduces the cost of marketing, and helps in generating better results.
8. Lower Cost per Patient Acquisition (CPA)
CPA refers to the amount of money needed to be spent to convert a possible or potential patient into an actual patient.
For this, efficient Digital marketing strategies are required to gain attention of patients in less expense.
But traditional marketing methods cost high and becomes a struggling point for the practitioners to afford it.
On the other hand, digital marketing is cost effective, which automatically reduces the CPA, and increases the chances of profits, while gaining the attention of a higher number of patients.
9. Making decisions without looking at data
To make decisions to expand your practice and reach out to a wider group of patients, it is necessary to have relevant data. A good data helps to create a more efficient marketing strategy in lesser budget. It also helps to know the kind of changes required to make the presence better and more appealing.
The data generated through Digital Marketing helps to build better patient-doctor relationships.
CONCLUSION
It is important for you to use digital marketing as a medium to expand your practice and make it accessible to the right audience.
If you are a medical practitioner, who is looking for a digital marketing team to expand your practice and be able to gain more patients, CONTACT US.
Write for us
We're looking for authors who can deliver quality articles and blog posts that can help our readers to know more about digital marketing and business growth strategies. Thousands of your peers will read your work, and you will level up in the process.
Contribute to our blog