Best Tools for Keyword Research
Do keywords matter for you to rank on top of search engines like google? Can't you use your instinct to do keyword research?
Studies from search engine journal suggest that 49 % of marketers report that organic search has the best ROI of any marketing channel.
As you can see, around 50 % of marketers believe that organic search is the best channel to get higher returns. But how is it possible for you to rank organically? This is where Keywords come into place.
In this guide, I will discuss in detail what keyword research is, why it is crucial, how to do keyword research and what tools you can use to grow organic traffic.
What is keyword research? 
👉 According to exposure ninja, "Keyword research is like a bread and butter for digital marketing.
In simple words, Keyword research is the process of finding specific words or phrases that people usually enter into the search engine. If your content has particular words or phrases, then your audience will find you.
For example – If you are running a digital marketing agency, then you need to use certain words or phrases on your website so that people can find you. Some topics people might be searching for include ✔️social media, ✔️email marketing, ✔️blogging, and ✔️PPC.
These words or phrases will be described as keywords.
👉

Why does your business need to care about keyword research?
Using keywords in your content will help your business to rank on google. It is great for your SEO.

Keyword research is essential to decide your content strategy as you know that content and SEO go hand in hand. When you are writing an article of 300 or 4000 words, you need to write it considering SEO. 

Another benefit of using keyword research is that you can connect with your target audience easily. You can't target all keywords. You will focus on specific words or phrases that your audience is interested in. 
How to do keyword research for SEO? 
▶️ Do a brain dump because you need to catch words from the customer's mouth. Keywords can be product-based or service-based.
▶️ You can talk to your sales team and find the exact words people are looking for.
▶️ You need to create a list of 4-5 content pillars relevant to your business. Now it's high time to come out with certain words or phrases for your content pillars.
▶️ Check out your competitor's website and put that website in a keyword research tool like SEMRUSH. Check out what keywords your competitors are ranking for.
▶️ Understand the search intent of the user. You need to categories between informational and commercial keywords.
Informational keywords are generally used for blogs as the visitor will visit your blogs to find information. In contrast, commercial keywords are used when you are trying to sell products to your customers.
Tools that you can use to do keyword research
There are Plenty of tools that are available in the market to do keyword research.
1. Google Keyword Planner
Use google keyword planner to get uncountable ideas on your way. Type in a word or phrase and get keywords your customer is searching for. If you are an advertiser and want to target your customer using specific terms, this tool would be a great option.
TIP: You can even check the URL of your competitors to get keyword ideas.
3. Google Related Searches
Go to google and use the feature called "searches related to." After all, google processes around 8.5 billion daily searches. You can find related searches at the bottom of Google. As tons of people are searching keywords on google so using google related searches is the go-to option for you.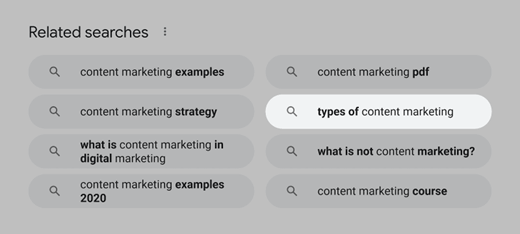 4. Reddit
Head over to Reddit to discover topics related to your niche. When you join the subreddit, you can find various threads on several topics. Make sure to keep an eye on words/phrases.
5. Ubersuggest
Go to Ubersuggest tool that is made by Neil Patel. Ubersuggest will give you tons of keyword suggestions, analyze keyword difficulty scores, search volume, and no of social media shares.
This tool offers you paid as well as free plans.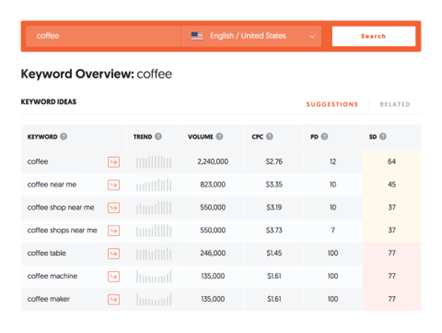 6. Answer The Public
Use answer the public tool. This tool will present keywords in a visual format. Type in a keyword in answer the public and find amazing keywords. These keywords will be based on google autocomplete suggestions.
7. Quora
Dig deeper to Quora. Quora is a great platform for finding topics that are going on in the industry. You can find your customer out there. Search for any particular word or phrase in Quora, and you will find many questions your potential customers might be asking.
8. Forums and Communities
Go to different forums and online communities. Your potential customers might be waiting for you. Search about a particular topic and discover dozens of keywords.
9. Amazon
Head over to Amazon. You won't imagine that amazon stores a large volume of search queries. Type in the topic on amazon to get valuable suggestions at your doors.
Wrapping up 
Keyword research is the key to your marketing campaigns. Businesses, if not found online, cannot succeed. You need to create a balance between which keywords you would like to rank for.
If your keywords have low search volume, then leads won't come to your website. While if your keywords have high search volume, you might not rank on search engine result pages.
It's always better to use appropriate keywords that can target your customers. Doing keyword research might seem daunting, but if used strategically can pay you in the long run.
If you are looking for digital marketing strategies to grow your business and want an expert to take care of the Digital marketing than, CONTACT US.
Write for us
We're looking for authors who can deliver quality articles and blog posts that can help our readers to know more about digital marketing and business growth strategies. Thousands of your peers will read your work, and you will level up in the process.
Contribute to our blog